Just like I promised earlier, this entry is going to give you a brief explanation of what MyLife Organized is and how I'm using it in my daily organizing. Hopefully, this will help you make you own opinion of this software, and easily see some of the benefits it might have for you.
I've been using the evaluation version 1.5.06 of MyLife Organized to replace the organizing process I had been using after my recent to-do lists revolution. So far it's proved to be reasonably easy to manage tasks using this software, but I'm still not sure if it's the ideal solution for me, and I'll explain why.
MyLife Organized is a really nice software for your time, tasks and projects management. It supports most of the concepts you're ever likely to need organizing your time, and attempts to present information in an easy-to-read form.
There are three editions of this software application, the simplest one provided to you absolutely free. The basic differences are that in the free edition you're pretty much limited to managing your time with simple tasks lists, while standard edition ($45.95) adds the idea of places (locations in GTD) and adds flexibility for time management. The professional edition (59.95) supports basic project management and allows you synchronize your lists with Outlook or PocketPC edition of MyLife Organized.
For more details, please consult the MLO features comparison page.
You can get a professional edition 45-day trial, and it takes only seconds to download it. Once you start the application, you have a demo database to work and play with. The main window allows you switching between few tabs, and I'll cover them later on.
Outline tab
This is where you'll be spending most of your time working with this program, as it allows you to manage all your tasks and projects. Everything is represented by a tree-like structure, and using the right-click of your mouse you can access all the functionality available to you at any moment and within the current scope. For each task, apart from lots of properties, you can also have a notes section where you put text information. These notes can be printed out along the task when you're printing reports or to-do lists.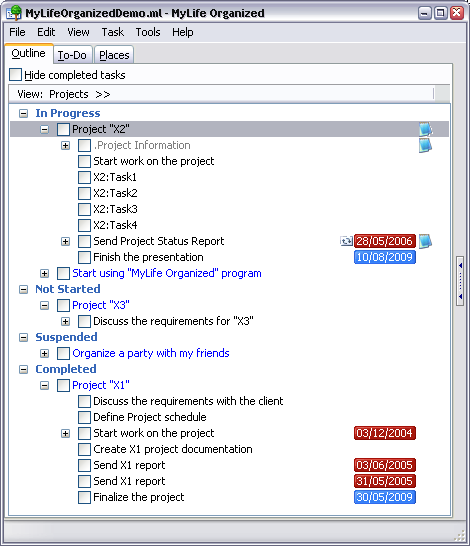 To-Do tab
This is where you'll be looking from time to time just to make sure you're right on schedule. All the tasks are shown as a list, and you can see the dates and times when they have been allocated to a task. You can limit a to-do list to a particular context (place) or a date.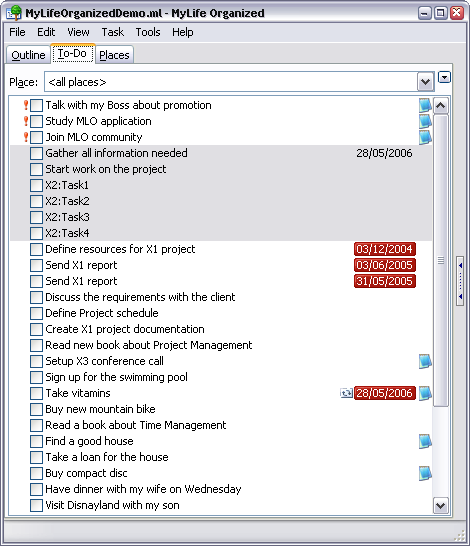 Places tab
This is the MyLife Organized way of placing tasks into certain contexts. You create various locations here, and then assign tasks to these locations as you create them (or at a later stage, if you wish). The idea is that places will help you narrow your to-do lists down to something very specific when you need it.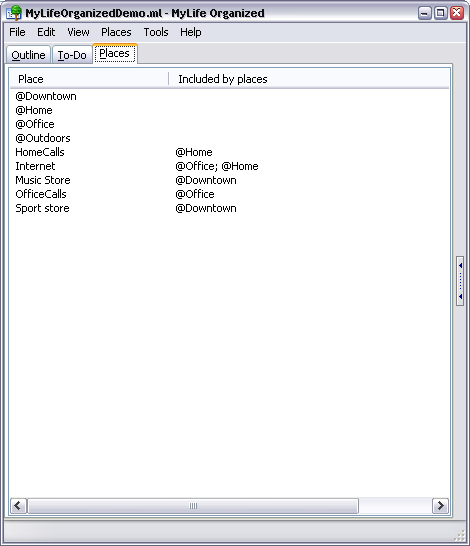 Pros and cons
There are some things I've found very useful, and some others which I don't like at all. And there's probably many more features I simply don't know about this software, so just be warned. As for me, I'll certainly do my best to update this entry later when I discover more about this application.
So here are the things I like about this software:
very compact piece of software. I've copied its folder to my iPod, and this solved the problem of accessing the same tasks list at work or at home.
adjustable appearance. You can change the way application looks to make it present your tasks either as a dead-simple to-do list or as a very useful tree-like structure
extensive set of features for time management
excellent handling of recurring tasks
places support is great for managing place-specific tasks
And here are few things I don't like:
it's not free. It would be much better if the standard edition was free, and the professional one would cost something like 30$.
not all features are obvious – it takes time, some trial-and-error experiments, and, finally, reading the thankfully informational help file before getting some things done the way you want it
templates for printing are still very basic. If you're familiar with the freely available DIY planner pack of PDF forms, you'll know exactly what I mean
working with groups of tasks (like changing the location or time for all the subtasks) could be improved and simplified
Why I don't think it suits me in its current form
While MyLife Organized certainly allows me keep track of all the tasks and projects I have, I really miss some of the features specific to my previous way of organizing things. Here are just a few:
To-do lists are cluttered – by default, any tasks which don't have their start date set are going to show up in your to-do list. Unfortunately, I have cluttered to-do lists – that was one of the reasons I tried moving away from them. In my organizing, there are plenty of things I know I'll be doing this month or this year, but I dont' even want to spend time thinking now of a possible date for them. I haven't found the way to make such tasks disappear from the to-do list, cause these tasks would appear on the list even if I try and filter it by the date.
Outline is only 1 tab and it's not flexible enough. If you remember, I like having few outlines – one for today, one for the week, another one for the month, and yet another one for all the rest tasks and plans I'll be doing someday. Outline tab gives you only 1 structured list of tasks and projects. The same goes for the To-Do tab, as I would really like to have my to-do list show only the things and plans I have for today.
UPDATE: Turns out, the tab is actually too flexible ;) If you employ the View feature, this would allow you sort filter and sort your tasks by date or completion (for both tasks and projects).
Lack of history tracking
Because I'm only developing my own approach to daily organizing, it's vital to me that I keep track of my progress and have the ability to go back and review what I've done or haven't done today or yesterday. This is the part which wasn't excelled in my previous organizing approach, and it's not found in the form I would like in MyLife Organized neither.
UPDATE: That being said, the View feature allows you to view completed tasks sorted by date.
That's it, I think I've said enough to raise your interest and explain how and where this software could be improved even further. Seeing how active its development is, I'm looking forward to reviewing future versions of MyLife Organized. It's definitely one of the best organizers around.