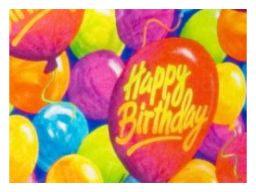 Yes, it seems unbelievable, but yesterday marked a birthday of this blog! It's been registered on Jan 21st, and the first post was made on Jan 25th. Jan 26th 2006 marked the day when this blog saw its very first visitor.
The first article of mine, strangely enough, wasn't about introducing myself or somehow marking the day. Instead, it was a rather serious topic: Never Leave A Question Unanswered.
You probably remember my Six Months In Review, and every word of it still holds true: I've made many friends through this blog, and appreciate all the advices you've given me over time.
100+ articles on personal development, and I still can't wait to get an hour or two to express my newly acquired experiences and skills or describe recent discoveries! I have a great feeling about 2007 – I will make it an even bigger personal success.
I would like to thank each and every one who comes back to my pages regularly or simply finds my articles through friends or search engines.
The readership of Personal Development Ideas slowly grows, and I've recently broken a number of 250 RSS feed readers. In addition to them, roughly the same number of visitors read pages from their browser. That's 500 chances for me to share what I've learned so far and to get help in learning more! That's a great source of inspiration for me, and I thank you all for your support.
This past year had been a time of wonderful discoveries for me. I've composed a Personal Development Ideas: Top 10 list, and it seems to be quite popular among my readers. Some of my findings may seem too trivial, but nothing beats a personally acquired experience, and so I hope that my ideas will help you see what to try for your own self-growth and sparkle even more ideas for you to work on.
That said, I'm off to enjoy a weekend. See you next week!