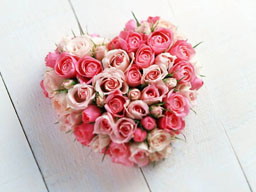 Hi everyone, and welcome to this week's edition of Personal Development Radar!
First of all, I would like to take this moment and wish you all a very happy Valentine's Day. Love is one of the strongest emotions we get to experience in our lives, and I wish you all to have the courage it takes to love, so that you too can enjoy the feeling of being truly and deeply loved.
As always, if you have an idea or two about improving the Radar, or have an announcement to make, please visit the Personal Development Radar page and contact me!
Now, on to today's news and recommendations!
NEWS
Website introduction and recommendation: Lyman Reed from Creating A Better Life blog has started a website for The Personal Development Carnival.

Website: http://www.personaldevelopmentcarnival.com

Personally: Personal Development Carnival had been the most favourite carnival of mine for quite some time. I've proudly hosted this carnival on my pages a few times, and definitely look forward to doing it in the future. Dedicated website for a blog carnival is quite original, and I see a great potential in this move. I'll watch it closely and you'll be among the first to know when something interesting happens on this blog pages.

Well done, Lyman!

Software update: EverNote Beta 2

Website: http://www.evernote.com

Personally: EverNote is in my opinion the greatest note taking and organizing tool. It comes equipped with a note clipper – an addon for your browser to copy text and/or images from any page you're looking at. Indexed database allows for really fast and easy searching, and you can organize notes using tags as well. I'm using a free version of it, but Pro edition supports even optical recognition (OCR) of handwritten and scanned notes, how cool is that?

Just a few days ago, a new version of EverNote Beta was released: EverNote Public Beta 2 Release 2.0.0.244. This version bring new interface look, bugfixes and plenty of note clipping and information organization improvements.

Download link: EverNote Beta 2



Website introduction: Ultimate Personal Development Index.

Website: http://personaldevelopment.marvelz.com

Personally: This looks like a promising project which just got started. It helps you track new posts in personal development community, find out new related software, and generally stay on track of all the news in the community. I think it's a great idea and a website definitely worth a closer look.
INTERESTING BLOGS
Blog recommendation: Evolving Times blog by Edward Mills.

Website: http://evolvingtimes.com

Personally: I've known Ed through his blog and emails for almost a year now, and I can honestly say his blog is one of the best in the field. Being a Law of Attraction coach and writer, Ed regularly shares his experience and hosts the Law of Attraction carnival.

I like his writing style and find most of posts interesting and motivational. I also like watching Ed experiment with blogging and attracting visitors, as we're moving in the same direction with our projects and have a lot in common.

Thanks for a great resource, Ed! I'm glad to have the opportunity to share your blog with my readers.

Blog recommendation: Balanced Life Center by Nneka Kelly.

Website: http://www.balancedlifecenter.com/

Personally: I first learned about Nneka through the Personal Development Carnival, and it wasn't long until I had become a regular reader. She hosted that carnival many times, and in my opinion did it better that me, putting more time and effort into making each carnival edition a truly useful index of posts on personal development.

Over time, the website is shaping up into something bigger than just a blog, and "Spirituality applied to life" description fits the topics very well.

One thing I really like about Nneka is that her posts always show how passionate she is about her life and how commited to making a difference in this world. Only person like Nneka could have had a whole month dedicated to arrange and host a Season of Gratitude – when all the participats shared with other readers things they really enjoy in their lifes, showing gratitude for what they have.

Thanks for your great website, Nneka! I'm glad to work with you and Lyman on the carnival, and look forward to more interesting articles and experiments of yours this year.
That's all I've got for you today! Thanks for your announcements! I also hope you'll like my personal recommendations.
Please leave your ideas in comments, and contact me regarding your blogs or products to be featured in the next edition of Personal Development Radar.