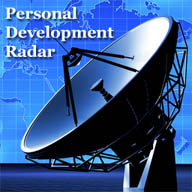 Hi everyone, and welcome to this week's edition of Personal Development Radar!
I've had a really busy week, and the coming one is going to be same. That's why I've decided to move Radar editions to Saturdays. I'm still playing with the structure and layout of the Radar, so feel free to suggest changes or improvements yourself – just leave a comment to this post.
If you have an announcement to make, please visit the Personal Development Radar page and contact me!
Now, on to today's news and recommendations!
NEWS

– Online community introduction and recommendation: Personal Development Ideas website now has its own community at MyBlogLog!
Website: Personal Development @ MyBlogLog
Personally: I wasn't impressed with MyBlogLog initially, but then recognized it as a great tool for meeting new people and discovering new blogs. It also helps seeing others join my community and thus motivating me to go on.
Those of you who read my blog through RSS have probably noticed nothing, while browser-based visitors have surely noticed the MyBlogLog panel on the right side of my blog. Check it out and join our community!

– Software update: MyLifeOrganized – Release Candidate 1
Website: http://www.mylifeorganized.net
Personally: I'm a proud owner of the Pro version of this wonderful software, and it's among a handful of applications I use every day. All my paper-based to-do lists and project management systems were replaced by this wonderful tool, and I can recommend it to anyone.
New beta version of MyLifeOrganized brings not only bugfixes, but some really nice features, like enhanced search options. Please have a look at the MyLifeOrganized Review I've written a while ago, and stay tuned for an updated one.
Download link: MLO-Evaluation-Setup-RC1.exe
INTERESTING BLOGS

– Blog recommendation: thoughts on personal development by Igor Grinchenko
Website: http://www.grinchenko.org/blog
RSS Link: http://feeds.feedburner.com/igorgrinchenko. Since Igor also writes on purely technical topics in his blog, I've asked him to create a FeedBurner RSS for you to read only the personal development notes of his.
Personally: I've known Igor for many years, and we come from the same country and the same city. He lives in the US now, so we have mostly communicated through instant messengers and emails. Still, we understand each other very well on many views of life, and I find his notes very original and interesting. Have a look!
– Blog recommendation: The Art of Intimacy by Jennifer Jones
Website: http://theartofintimacy.blogspot.com
Personally: I've just learned this blog last week through MyBlogLog, and I've immediately subscribed to it. Jennifer talks about love – one of the greatest blessings and miracles in our lives. Intimacy, as you may guess, is another topic frequently talked about in her posts.Jennifer, you've got a wonderful blog. Thank you for sharing your love and wisdom with others!
INTERESTING POSTS
That's all I've got for you today! Let me know what you like about the Radar, and what you would like to see in future editions.
Leave your ideas in comments, and contact me regarding your blogs or products to be featured in the next edition of Personal Development Radar.