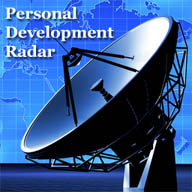 Hi everyone, and welcome to the next edition of Personal Development Radar!
Thanks for all the submissions! Personal Development Radar aims to bring you the latest news and suggest best online resources on personal development.

NEWS
Global Search for Personal Development Sites update – the following websites were submitted (and added) to the Global Search last week:
Latest carnivals
If you want your carnival mentioned here, just let me know using the Personal Development Radar contact form!
Personal Development Forums: most interesting discussions of the week
Please take time to visit Personal Development Forums. Below is a list of the most interesting conversations of the week, you're welcome to register and join our conversations:

72 Hour Special on Achieve-IT!
Brad Isaac is giving a 25% discount on his Achieve-IT! goal management software. I don't own a full copy myself, but participated in beta testing and really liked it.
INTERESTING RESOURCES
Blog announcement: Conceive, Believe, Achieve by Bradley Woods
Website: http://bwoods.wordpress.com
Here's what Bradly says: I believe that what you think about creates your reality and I explore this idea on my site conceive, believe, achieve. This site is free and I hope to grow it and build a community around creating your reality through your thoughts.

Website announcement: Craig Harper – Motivational Speaker
Website: http://www.craigharper.com.au/
Brief description: Craig's blog is an educational and inspirational resource for people who are serious about creating their best life.

Blog announcement: The Growing Edge
Website: http://www.walkstheedge.com
Brief description (as given by the owner): Love the personal radar … it is so difficult to track down all the PD blogs and products out there. I have been gradually gaining some momentum with my personal development blog and getting into a rhythm of 3-5 posts per week. approach is mainly storytelling with some how-to.
Based on both my experience as a pd junkie for 20 years and also a trained psychotherapist, ceremonialist and organizational consultant. Would love your (honest) feedback as to whether the material is worthwhile. Thanks!


INTERESTING POSTS
That's all I've got for you today! Let me know what you like about the Radar, and what you would like to see in future editions.
Leave your ideas in comments, and contact me regarding your blogs or products to be featured in the next edition of Personal Development Radar.