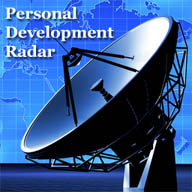 Hi everyone, and welcome to this week's edition of
Personal Development Radar!
If you haven't noticed yet, I've updated the Personal Development Radar page to include a submission form – so it's never been easier to share great resources with the community!
Global Search for Personal Development Sites update
– the newly added submission form makes suggesting your website even easier
– from now on, the Global Search page will have a full list of all the websites found through the search
– the following websites were submitted to the Global Search last week:
Latest carnivals
If you want your carnival mentioned here, just let me know using the Personal Development Radar contact form!

LifeClever gets a new look
I am a regular reader of the LifeClever website, and really like most advices shared on its pages. New design makes the website even more useful and accessible. Well done, guys!
Mind maps to achieve your goals
Eric Blue has contacted me regarding his recently created mind map. Here's what he says: I've created a unique mind map template that makes goal setting easy and effective.Read more in a post on his blog: Use Mind Maps to Achieve Your Goals
Website announcement: 2KnowMySelf
Website: http://www.2knowmyself.com/
Personally: This website seems to be a large collection of ready-to-use informaton on various questions of self-understanding and personal development.

Blog announcement: Acquire Wisdom by Sam Chan
Website: http://acquirewisdom.blogspot.com

Here is what Sam says about his blog:
It ain't the things you don't know that gets you into trouble; it's the things you know for sure that ain't so.We are often our own worst enemy.In my blog, I am sharing all wise sayings of famous and great people who had shared what they had acquired in their life time. I just group them together and hope you all find it useful.
Henry Ford said "Learn all you can from others. The school of experience takes
so long that the graduates are too old to go to work."
Well, it is better to learn from the experience of others. So acquire Wisdom
and Live with passion!

Personally: I've been reading this blog for the past two weeks, and I like the way Sam posts frequent short articles on various aspects of self-growth.
Website announcement: Butler Bowdon
Butler Bowdon has compiled three books of his own commentaries of truly classic books on personal development. His website contains short versions of the commentaries found in his books, to give you an idea of how you will benefit by reading his works.
Website: http://www.butler-bowdon.com

INTERESTING POSTS
That's all I've got for you today! Let me know what you like about the Radar, and what you would like to see in future editions.
Leave your ideas in comments, and contact me regarding your blogs or products to be featured in the next edition of Personal Development Radar.