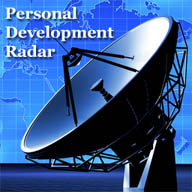 Hi everyone, and welcome to the next edition of Personal Development Radar!
Personal Development Radar aims to bring you the latest news and suggest best online resources on personal development.

NEWS
Personal Development Ideas is moving to a new hosting!
Next week I'm going to migrate this website to a new hosting platform, which will mean a faster access for most browser-based visitors, and an even more flexible website administration for me. Fingers crossed, the change will go unnoticed (Personal Development Ideas feed readers, for instance, won't notice a thing).

Latest carnivals
If you want your carnival mentioned here, just let me know using the Personal Development Radar contact form!

Personal Development Forums: most interesting discussions of the week
Please take time to visit Personal Development Forums. Below are a few interesting posts of the week, you're welcome to register and join our conversations:

Simpleology: The Simple Science of Getting What You Want
This long-awaited book by Mark Joyner is finally available, and is already in the Top Three on Amazon's bestsellers list:
I'm going to be ordering another batch of books on personal development soon, and this book is definitely going to be one of them.

Scott H Young is writing a book
Scott had sent me one of the chapters of his new book, and I can see there's a post where he shares his plan for what will be his first book. Good luck, Scott! I think you're doing great!

The Personal Development Bootcamp book
Alex Shalman has announced that he's working on a book too! What can I say: it's a great way to share knowledge, and some of the articles Alex posted before are just awesome. The title promises a lot, as does a recent post in the blog. Look forward to reading your work, Alex!
INTERESTING RESOURCES
Blog recommendation: The Time Mastery by Amanda Young.
Website: http://thetimemastery.com/blog
Personally: I've discovered this blog a few weeks ago, and since time management is one of the most attractive areas of personal development for me, I had signed up to its feed after just a few posts. I greatly enjoy reading new articles, and find many of them really useful. Thanks for a great resource!
Blog recommendation: Breathing Prosperity's Law of Attraction Blog
Website: http://blog.breathingprosperity.com
Personally: Again, this is a fairly recent addition to the list of blogs I regularly read. Breathing Prosperity blog is a great blog accompanying the main Breathing Prosperity website. It's a collective blog, which means that it has 4 authors supporting it, out of which I've only spoken with Shauna so far. Law of Attraction is something I have a great interest for, and I think many of you will find this blog useful.
INTERESTING POSTS
That's all I've got for you today! Let me know what you like about the Radar, and what you would like to see in future editions.
Leave your ideas in comments, and contact me regarding your blogs or products to be featured in the next edition of Personal Development Radar.