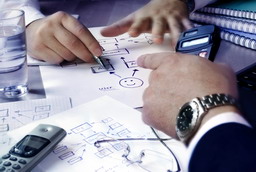 Last Thursday and Friday I was on a training called Breakthrough Project Management.
It was an on-site training, and Barry Flicker spent two days sharing his approaches to make project management straight-forward and most effective.
I greatly enjoyed the course, and will form a series of posts on project management in the nearest future, but for now I just want to mark this event and recommend you Barry as an excellent mentor with quite a unique training course.
I liked the way Barry presented common project management challenges, and the team games we had played were created in such a way that they perfectly highlighted the most usual problems you're bound to see in any project.
One lesson learned once and for all is this: communication plays the most important part in any project.
It is vital that roles and common rules of working on a project are communicated out. Goals and tasks need to be clearly defined and presented to the core team of a project. Metrics and checkpoints are to be defined and explained to everyone as well. Only if every member of the core team communicates relevant information effectively, does a project stand chance to be a success.
Playing games helped us see how lack of communication may make even the most talented and proactive people on the team seem to be useless and irrelevant to the success of a project, and it is truly amazing how simpler things really are if you make sure all the assumptions made during the project planning are communicated to others members of the team.
Barry Flicker had been teaching this course for almost 20 years, and that's why every slide of his presentation is filled with deep meaning and though provoking pointers. If you ever get a chance to attend the Breakthrough Project Management, I strongly recommend you do.
That's all I wanted to share with you for now, stay tuned for more! Until then – good luck with your project planning!