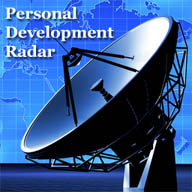 Hi everyone, and welcome back to Personal Development Carnival!
Personal Development Radar aims to bring you the latest news and suggest best online resources on personal development, and I'm happy to present you this latest edition. If you are featured in Personal Development Radar, please consider linking back to it.

NEWS
Latest carnivals
If you want your carnival mentioned here, just let me know using the Personal Development Radar contact form!
New Global Search submissions
This week, the following websites were added to the Global Personal Development Sites Search:
INTERESTING POSTS
That's all I've got for you today! Let me know what you like about the Radar, and what you would like to see in future editions.
Leave your ideas in comments, and contact me regarding your blogs or products to be featured in the next edition of Personal Development Radar.