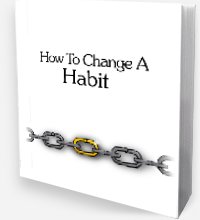 I'm happy to announce that a good friend of mine, Scott H Young, has just released his next ebook, ready for you to buy and download from Lulu: How To Change a Habit.
How To Change a Habit sums up Scott's experience on habit-making so far, and must be a brilliant guide to successful permanent changes in your life. I will be sure to review this work in the coming weeks, but couldn't wait so long to share the news.
The book has a 20-page preview version and comes with a 120 days money-back guarantee, so it seems every step has been taken to ensure you will buy it only if you like it and find its wisdom beneficial.
Go have a look at the How To Change a Habit website, and I wish you good luck with exploring the book and mastering your habits!