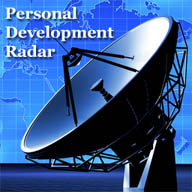 Ladies and gentlemen, I finally present you the next Personal Development Radar! It may have taken three months to come up with this one, but with your help and attention I'm sure I can make it into more regular even once again :)
Personal Development Radar aims to bring you the latest news and suggest best online resources on personal development, and I'm happy to present you this edition. If you are featured in Personal Development Radar, please consider linking back to it.

NEWS
New Global Search submissions
This edition sees the following websites added to the Global Personal Development Sites Search:
NEW WEBSITES
1. Blog: Everyday Change
Here's what Matt, owner of this blog, has to say about the project: it is a new blog devoted to personal development and positive life change. With a BIG focus on SMALL actions that you can make to improve your own life and that of those around you. EverydayChange.com is a great place for information and resources.
Personally: I think it's a great new blog, still actively maintained and with plenty of interest and passion to the subject seen in every post.

2. Website: Synergy Institute
Personally: A rather complex website, it offers a short but sweet articles section and hosts a blog you might want to check out.
3. Website: Maximize Your Potential
From the owner: The site provides information on conferences, seminars, book, corporate trainings – and how to maximize your potential with powerful tools and no stress.
Personally: Dan Low had been teaching advanced management techniques for the past 25 years. He has kindly sent me his book, Maximize Your Potential, and I will be sure to post a review of it once I read it.
INTERESTING POSTS
That's all I've got for now! Let me know what you like about the Radar, and what you would like to see in future editions.
Leave your ideas in comments, and contact me regarding your blogs or products to be featured in the next edition of Personal Development Radar.