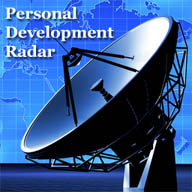 Hi everyone, and welcome to the next edition of the Personal Development Radar!
Personal Development Radar aims to bring you the latest news and suggest best online resources on personal development. If you are featured in Personal Development Radar, please consider linking back to it. If you want to be featured, please use the contact form to suggest your site.

NEWS
New Global Search submissions
This edition sees the following websites added to the Global Personal Development Sites Search:
Growth Pop – http://www.growthpop.com
A word from its creator: GrowthPop is a personal growth review website that aims to entertain and educate about transformational and growth-related books, videos, workshops and courses. We aim to be funny and entertaining and also spread the good work that brings more conciousness into people's lives.
TRCoach – http://trcoach.com
Tom Spanton is TRCoach, he writes about all things to do with personal development.
This makes the overall number of searched websites: 89!
INTERESTING WEBSITES
1. Website: Landmark Education News
Michael Aniff contacted me because he wants to share this website with as many visitors as possible:
This is a website created by an international group of Landmark Education Graduates. It provides news items about different projects people have created to make a difference in the world. It is pretty inspiring to read.
2. Website: ID Central
Michelle Fox suggested this website with the following description:
idcentral focuses on "self help" strategies and publishes a constantly updated resource page on the latest trends, tactics, and best practises for self development and following your life's purpose.
INTERESTING POSTS
That's all I've got for now! Let me know what you like about the Radar, and what you would like to see in future editions.
Leave your ideas in comments, and use the form on the Personal Development Radar page to contact me regarding your blogs or products to be featured in the next edition.