BlogRush has finally arrived and is quickly picking up the pace!
If you've been waiting for increasing the amount of relevant traffic to your blog, then I suggest you join the BlogRush and start enjoying its benefits.
For those of you who haven't heard about it, I've compiled a very quick how-to on BlogRush.
What is BlogRush?
It's a traffic attraction tool which helps you get relevant traffic. All the members of the BlogRush service place their blogs into certain categories, and by showing links to blogs in your category, you automatically earn points which will make other blogs show links to you.
There's a lot of hype around BlogRush, and while some people absolutely love it, others have learned to hate it in a matter of just few days since the release. Visit the BlogRush website, watch the introductory video, and it will hopefully suggest how useful it will be for your blog. My opinion is that it's worth a try. But whether it will be a huge success or not is still to be found out.
How does it work?
After your sign up to BlogRush, you'll be asked to provide basic information about your blog – it's name, main page link and the blog feed link. Then you'll need to confirm the interest group your blog fits into most. The last step is for you to integrate a piece of BlogRush code into your sidebar, and it will result in looking something like this (browser-based readers of this blog can find the live BlogRush widget in my sidebar):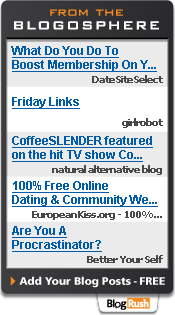 Every time someone opens your blog, they'll see the BlogRush widget with updated links to other blogs in the same interest group. By showing links to them, you earn points so that the BlogRush widgets on their pages will show links back to your blog.
Why use BlogRush?
Here is my personal list of the best reasons to join BlogRush:
It's an absolutely FREE service
It's (really) easy to get started – feel free to contact me and ask for help if you're stuck
The traffic you get is targeted – so you're more likely to get really interested visitors
It's a smart way to grow readership – one more thing is that new BlogRush users who sign up using your referral link will bring you more and more traffic
It's a fun way to explore new websites in your niche
How to get started
Simply follow this BlogRush registration link, and answer all the questions (there won't be many). You can add as many blogs as you like, and pick a relevant niche for each of them.
The next few days will definitely bring useful advices on optimizing your experience, and I'll be sure to post the highlights up on my Perfect Blogger blog.
That's it. Not sure how successful BlogRush will turn out, but seems to me it's definitely worth a try! Let me know how you find it once you sign up.