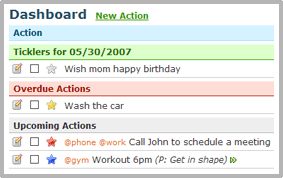 Two weeks ago I've decided to give Vitalist a try, and so far I'm quite happy. I'm working on a full report of my experiences with it so far, but thought I'd ask if any of my readers use it as well?
Joining Vitalist was also the motivation I needed to re-read David Allen's wonderful Getting Things Done: The Art of Stress-Free Productivity
book, and this means I'm trying once again to introduce a more strict way of doing things, thus getting closer to the original ideas of GTD.
If you use Vitalist, how do you find it?
Let me know in the comments area, and thanks for your help!