You probably remember how Aaron Potts came with a clever idea of opening a social website for people interested in anything related to personal development. The first edition of Personal Development Partners was a success, but required major technical rework of the website, which is why it was closed for a while, only to reopen now with even bigger fanfares! :)
Here's how it looks (click the image to go to the website):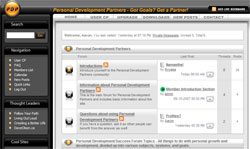 Aaron has just started a Personal Development Push contest which offers great prizes (iPod nano and iPod shuffle with preloaded personal development audio programs) to everyone who helps him spread the word about PDP. I think it's a great way to kick-start a new project, and predict that PDP will see a steady growth in the next few weeks. Go on and have a look, it's worth a visit and I sense there's more to come as the community there develops.
Please use this link to visit it and maybe register – who knows, maybe it will help me win one of the prizes? Wouldn't mind that at all :)