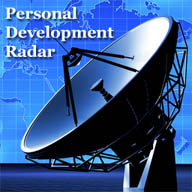 Hi again, and welcome to the next edition of the Personal Development Radar!
Personal Development Radar aims to bring you the latest news and suggest best online resources on personal development.
If you are featured in Personal Development Radar, please link back to this website! If you want to be featured, just the contact form to suggest your site.

NEWS
New Global Search submissions
This edition sees the following websites added to the Global Personal Development Sites Search:
This makes the overall number of searched websites: 91!
FROM THIS BLOG
For those of you just joining our community, here are some of the articles I would like you to have a look at:
INTERESTING WEBSITES
1. Blog: Priscilla Palmer
Priscilla says: I am a life coach, a blogger, and a personal development obsessionist. It is my lifes mission to help everybody I to Live their best life, and to be all that they want to be in this life.
Personally: I quite liked Priscilla's blog, and apart from great content she's also willing to actively help other bloggers. Last two weeks saw the whole personal development community bloom with updated versions of the Personal Development List which Priscilla started.
2. Blog: Planet Saedel
Here's what the owner of it says: My blog is a beginner's guide to practical things based on my personal experiences. I share personal accounts so others will be able to avoid mistakes, make the right decisions and improve their self-confidence along the way.
3. Blog: Bring It On Blog
Lorraine, a coach behind the Powerfull Living website, shares her thoughts on personal development in her blog.
Here's what she has to say about it: The purpose of this blog is to help you find success and happiness in your life. Enjoy resources, articles, and ideas to assist you in your personal and business development as well as to spiritually inspire you.
INTERESTING POSTS
That's all I've got for now! Let me know what you like about the Radar, and what you would like to see in future editions.
Leave your ideas in comments, and use the form on the Personal Development Radar page to contact me regarding your blogs or products to be featured in the next edition.