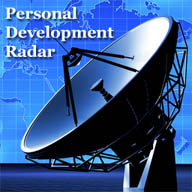 Hi again, and welcome to the next edition of the Personal Development Radar!
Personal Development Radar aims to bring you the latest news and suggest best online resources on personal development.
If you really like Personal Development Radar, please link back to this website! If you want to be featured, just the contact form to suggest your site.

NEWS
Personal Development blog gets a tumblelog version to accompany it: PersonalDevelopmentIdeas.com
I've had the .com domain name for quite some time, but couldn't find any use for it. Now, it finally became home to my personal development tumblelog – the place where I bookmark most interesting and useful articles I come across in my daily RSS reading.
The best of these articles make their way into the highlights at the end of each Radar edition, but if you're interested in more, please visit the Personal Development Ideas tumblelog!
FROM THIS BLOG
For those of you just joining our community, here are some of the articles I would like you to have a look at:
INTERESTING WEBSITES
1. Blog: How To Wake Up Early
Personally: this blog is a perfect example of an original approach to a rather trivial task. There's been a number of quite popular articles on the web promoting the idea of early rising, but How To Wake Up Early takes it all to the next level. New ideas and tactics on becoming an early riser are posted almost daily, and there's a very useful list of Top 10 Wake Up Tips which is updated automatically.
Overall, it's a great little website which serves its purpose: it gives you all the information you may need to learn how to wake up early.
2. Blog: Unclutterer
Personally: I've been a regular reader of this blog for about half a year, and although it's not a personal development website, it is on my must-read list of RSS feads. The reason for this is very simple: there's always something in your life to either greatly improve or to get rid of altogether. Unclutterer blog does what is says: it helps you organize your time and workplace, tidy up your thoughts and rooms, and throws numerous ideas for improving and simplifying every part of your life. A great blog I highly recommend to everyone.
3. Blog: GTD Wannabe
Personally: Another one of my favourites, GTD Wannabe is a blog of a true Getting Things Done fan. It's full of practical advices on GTD, and I like it most for unbiased reviews of the latest developments in offline and online software for GTD. GTD Wannabe seems to be on a restless and never-ending quest for the best GTD app, and it's just great to have someone who will not rest until the word is out about the pros and cons of every new possible application on the GTD front.
INTERESTING POSTS
Steve Pavlina has done it once again – he wrote a article that really impressed me: Overcoming Jealousy. Don't get me wrong – most of his articles are good, but this particular one resonated with my own thoughts so much that I was amazed. I totally agree with Steve on everything he said on the subject.
GTD For Bloggers: The Art of Stress Free Blogging – just another great post by Leo Babauta, this time summarizing his approach to blogging in one great reference guide which all of us can benefit from. Great post, Leo!
How To Focus Your Mind on Project – a simple list of powerful techniques for ensuring that next project you'll be working on gets the attention and focus it deserves. I use many of the same approaches myself and can confirm that they really work, no matter how simple they seem at first.
That's all for today! Let me know what you like about the Radar, and what you would like to see in future editions.
Leave your ideas in comments, and use the form on the Personal Development Radar page to contact me regarding your blogs or products to be featured in the next edition.