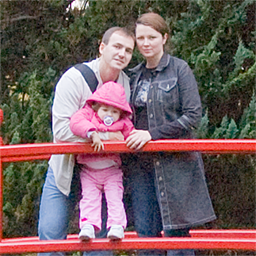 Feels like it's been a few months long vacation, and I kind of missed posting here. Guess what, I've had a moment of divine illumination – a two weeks of sheer joy and pure wisdom!
Do what you like – that's been my motto for the past 2 weeks, and will be for the rest of my life!
You've Always Got Something To Celebrate
It all began on a weekend two weeks ago. Not all of you know, but I turned one year older around these days. On October 16th I got 28, and to mark the occasion we got ourselves a 2-day romantic special in a hotel in Kilkenny – a town not too far from Dublin. Liza had liked the whole thing most of all. She was thrilled to see new places, and loved rose petals lying around the room and on our beds when we arrived. She was really keen on a sip of champagne too, but her time will come :)
It's been some time since we took a break from our work, and we needed it. We had a very quiet celebration, but enjoyed every minute away, seeing places and dining out. I managed not to get too philosophical about growing old, and was surprised and relieved to be happier than ever to meet my next year.
We came back to Dublin on the 16th, and got ourselves to a treat at a newly opened sushi place in the city centre (with all my dieting experiments we haven't had sushi for almost a year! Outrageous, isn't it?!). Later that night, we had friends visit us and they not only brought us the birthday gift I ordered myself through them (they were going home to their country and could buy it there for me), but also brought a great traditional cake. We've been eating this cake for 3 or 4 nights afterwards :)
On the weekend which followed we went to the John M Keating pub right in the city centre to meet with all the friends and celebrate my growing old once again.
Find Time To Do The Things You Like
I've spent most evenings of the last two weeks reading. Some inspirational stuff (will post a review soon), some educational, some technical. And I liked reading so much, that I hardly did anything else through my evenings! In the mornings, I did no writing. In the afternoons, I had no gym training because it was a heavily blocked week and I was jumping from one meeting to another all days. It felt great!
We also started the last stage of renovation works in our apartment during the long weekend (last Monday was an October bank holiday in Ireland), and with all the works the place was a real mess so we didn't spend much time at home.
Instead, we did some shopping, we met with friends, we went to look at the Japanese Gardens and visited the Dublin Zoo. Talk about relaxation! I absolutely LOVE different environments, even if they are artificially created. The gardens were amazing, a really nice place for thinking and contemplation – with a full walk of life in a form of archways, dark caves and stepstones across shallow waters – it felt like a magical place. Dublin Zoo is one of the most favourite destinations of ours as well, plenty of room for my photographic zeal and lots of fun for the whole family. Finally, we've made it to Johnnie Fox's – one of the most recognized pubs and restaurants in Ireland, which turned to be less than 5 miles from us.
Overall, these were the busiest and action packed 2 weeks of the year. We did so much, and it felt great because nothing was typical, everything was different.
Do It If You Think It's Important
I think everyone needs a break like this. It felt wonderful and gave me time to recognize how much I have in my life. These two weeks helped me see the real value I give and receive, and made me reconsider my goals and priorities once again.
Looks like there's been quite a few coincidences over the course of two weeks, but I'm inclined to think now that the seemingly coincidental way things stacked up and happened is not the cause, but the consequence of me freeing up so much time from blogging and other regular activities of mine. I can see my goals much clearer now. Those which are still with me, that is – I've actually dropped quite a few directions just because I no longer see the value.
How often should we do such breaks to decide where to go and what to do next? I don't know. But I will certainly do it again, hopefully sooner than my next birthday :)