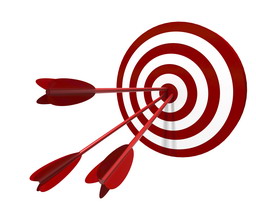 Knowing how to set goals is important, but what everyone really wants to know is how to achieve their goals and dreams. In this article, author J. Wolsey Riggs offers an alternative approach to the SMART goals system – the EASIER Method of Goal Achievement.
When I was a kid learning how to set goals, all I ever heard was "make sure your goals are SMART… Specific, Measurable, Achievable, Relevant, and Timely." The problem was, trying to make sure I set SMART goals usually left me tired, frustrated, and unsure of my ability to even set a goal properly. Even when I did manage to meet the SMART goal criteria, I felt abandoned when it came to figuring out how to go about achieving it. Goal setting quickly became a burdensome, frustrating practice – and I soon realized that I needed an easier way to incorporate this powerful personal development tool into my life. Lucky for me, I found one!
Years of research in the field of human potential (and goal setting in particular) has shown that those who consistently achieve their goals follow a very specific pattern of behavior – so specific, in fact, that once I show you what it is, you will be able to see that anyone that had achieved anything has completed the same exact process – including you!
In short, once goal-achievers intend to do something, they:
Spend time each day envisioning what their life will look like after they have achieved their goal. Second, they assess where they stand in relation to that goal from time to time. Then, after creating an honest assessment, they begin strategizing how they are going to get from "where they are" to "where they want to be". Next, they implement their strategy, and begin working towards the achievement of their objectives. As they meet (or fail to meet) those objectives, great goal-achievers take time to evaluate their progress, and finally, they surround themselves with people they trust and report their successes and failures in a timely manner. When you line the process up, it looks like this.
Goal-achievers:
Envision
Assess
Strategize
Implement
Evaluate, and
Report
As I alluded to earlier, the really good news about this unique tool is that we've literally been using it since the day we were born – which means it's something to be mastered rather than something that must be learned. If you're still having a hard time understanding that you're already using the EASIER Method, take a moment to think about a goal you achieve on a daily basis: like getting home from work at 5:30 so that you can see your beautiful wife (or handsome husband, whatever the case might be). When working through this goal, you:
Envision what it will be like when you walk through the front door and into the arms of your loved one ("Man, I can't wait to get home and hug my honey! He/She's always so warm and cuddly!").
Assess when you'll need to leave, and how long you have until the moment you can leave the rat race and head for greener pastures ("It's 4:30 now, and I can't leave until 5 if I want to have a job in the morning. If I'm going to make it home by 5:30, I'll need to…).
Strategize as to what the best route will be ("… avoid the highway, because at that time of day, it's bumper-to-bumper traffic. I'll take the back roads instead, and stop by the flower shop on my way.").
Implement your strategy with the hope that it will help you achieve your goal ("5:00! Time to get out of here!").
Evaluate your progress along the way ("Darn! I wasn't planning on this construction! I'm going to have to go a bit faster once I get through this traffic if I want to make it home on time!")
Report your progress ("Hi, honey. Boy, am I glad to see you; it was a tough day at the office! Oh, these? They're flowers – yes, for you! I know, I know, I shouldn't have.")
You see? You're an EASIER Method expert without even having tried! Now you just need to consciously apply the EASIER Method to all your goal setting efforts, and not just the habits you "achieve" on an everyday basis. For example, let's say you want to use the method to find a new job. Your first EASIER Sheet might look something like this:
The Goal: To obtain a new position by July 1st, 2008.
Envision: For 5-10 minutes each day, I will find a quiet spot and think about what my ideal work situation will be like. In addition, I will repeat to myself throughout the day the positive affirmation "I find great fulfillment in my work" (or some other affirmation you feel comfortable with).
Assess: My current strengths, skills, and talents are: (list here).
The skills I need to acquire or develop in order to qualify for my ideal position are: (list)
Strategize:
I will spend 15 minutes a day researching open positions.
I will send 5 resumes to potential employers each week, and follow up by calling each potential employer to check on the status of my inquiry.
I will send an email to my network of friends and associates, and ask them to help me in identifying and procuring a position.
I will spend x amount of time per week developing the skills and talents I currently lack that will be necessary for the responsible performance of my new job.
Implement: I will implement my strategy immediately, and
Evaluate: my progress once a week between now and my deadline.
Report: I will report my weekly progress to (somebody who supports your pursuit of a new job, and whom you trust and love).
While you will certainly need to hone this sheet, and tailor it to your specific needs and wants, you would be well on your way to achieving your aim within the time frame set out. Similar sheets have already been used to successfully balance budgets, lose weight, start businesses, improve marriages, increase monthly income, and even rid a house of a mouse problem! The sky's the limit for what you can achieve, once you understand the process of goal achievement.
As you strive to create the life of your dreams, remember: smart people might set SMART goals, but there's an EASIER Way to do everything! Happy goal getting!
J. Wolsey Riggs is a guy who really loves helping people learn how to set and achieve goals. He is the co-creator and #1 fan of the EASIER Method of Goal Achievement. To learn more about the method, please visit www.easiermethod.com, or http://easiermethod.blogspot.com.