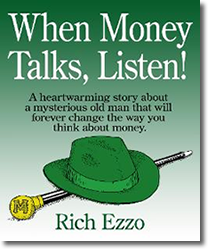 I've recently read a wonderful book about money. Rich Ezzo has managed to surprise me in many ways, starting with the fact that the book isn't about affiliate marketing or get-rick-quick schemes.
In our world of instant information delivery and hundreds of self-proclaimed monetization geniuses, this book was the least expected kind of a guide: a wonderful tale explaining what basic habits you should develop to ensure not only that you attract money into your life, but also truly appreciate every moment of your financial freedom.
I absolutely loved the five lessons given by the very easy-flowing story of this book, and I can relate to every one of them.
To give you the idea, here is just one of the lessons:


Earnings come from whatever the world decides a skill is worth. However, there is no one more deserving than another.
I've seen this happen so many times already: you see how successful a certain business idea is and you're just amazed and how you never came up with the same thing. You look at the proud business owner and think: How in the world did this person ever come up with an idea to charge for this service? Who could have thought there are so many people willing to pay for it? How is it that nobody made this discovery before? After all, everything was waiting for us right there on the surface – just come and grab the idea, make millions and move onto the next brilliant project.
At the same time, there are so many hard workers who work late hours and deprive themselves of sleep just to make an extra few dollars. They do their jobs perfectly, and their products and services are worth dozen times more than what they charge. Yet when you ask them why their price is so low, you realize that these people do not think so highly of themselves. They do not find their ideas and services special, and therefore do not believe it would be possible to ask for more.
Well, that's where one of the best lessons lies: do your best to produce a result, but let others decide how much it's worth. If you're passionate about your work and you genuinely try to produce the best service possible, you will be surprised how many people will want to pay for your services, and even more surprised at how much higher their price will be.
One unique feature of the When Money Talks, Listen! book is that it comes with plenty of examples to demonstrate the point of each lesson. To make the impact of the book last even longer, you're also offered a list of all the five lessons at the end of the book, plus a workbook – a set of printable templates you can use to track the progress on your quest to better understanding money and attracting abundance into your life.
Rich has written a lovely book which you will probably finish in a couple of hours. It has no revolutionary discoveries to offer, it suggests no shortcuts to getting rich overnight, but instead it gives you much more: a timeless wisdom of not making money matters bigger than they are, of cherishing every moment of joy you but with your money, of sharing your riches with people around you to make your own life and this whole world a much better place.
Go get the book and read it, you won't regret: it's been a while since I read something so simply beautiful and so immediately useful.
pS: if $9.95 stretches your budget, please consider contacting Rich directly, as he's willing to give his book as a gift to those in need.
See also: