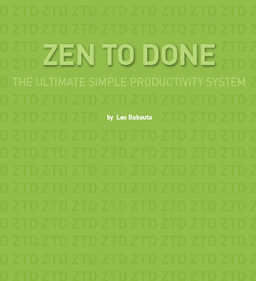 I've bought and read Zen To Done book just a few days after it was announced. It met all the expectations of mine and served its purpose perfectly, providing a great introduction into a simple way of organizing your life and staying most productive with the least amount of stress. If you were looking for news ways to get your self-organization and productivity levels up, this book is a winner – it truly is the ultimate simple productivity system.
What is Zen To Done?
Leo Babauta from Zen Habits have used his personal findings and experience to come up with ZTD – Zen To Done system, and here is how he describes it:
Simply put, Zen To Done is a simple system to get you more organized and productive, and keep your life saner and less stressed, with a set of habits. ZTD teaches you:

The key habits needed to be productive, organized, and simplified … and no more than that.
How to implement these key habits … tips on forming a habit.
How to organize these habits into a simple system that will keep everything in your life in its place.
How to simplify what you need to do.
Minimal ZTD. Also includes an even simpler version called Minimal ZTD.
I really like the way Leo makes most things appear as simple as they really should be. It's not a secret at all that many people fail to become organized simply because they associate too much effort with such a goal. But the truth of being organized is that the better you get at it, the easier it is for you to get things done.
For those of you who have read and tried following the Getting Things Done book by David Allen, there's a comparison of how and why ZTD could get even better results for you. I loved the GTD book, and have incorporated parts of the GTD system into my daily routine, but somehow the feeling of not being a true GTD follower stayed on. Zen To Done offers a simplified approach which many will find much easier to follow.
Why read Zen To Done?
Essentially, Zen To Done tells you about 10 habits for being productive and organized, and every habit is given thorough explanation and a few practical examples.
The most useful feature of Zen To Done book is that Leo gives practical advice on forming and maintaining the habits. It's rather easy to understand the principles, but unless you know exactly how to stick to them on a daily basis, they're not going to help you much.
Apart from a generic introduction to mastering your habits, you will also find reasons why certain habits are so hard to establish and what are the best ways to make your new habits permanent. There's quite a lot of explanation given for every habit so that you understand exactly why you would like to work on such a habit, and so by the time you get to the practical application of a new principle it's much easier.
Zen To Done: Is It Worth Reading?
Absolutely, yes!
I highly recommend you to buy and read Zen To Done, it's a pearl of simplified productivity wisdom which effortlessly summarizes all the principles you will ever need to stay productive and organized.
See also: