A few weeks ago I've taken part in one of the many competitions Darren Rowse regularly sets up at his ProBlogger blog. This time I was extremely lucky to be one of the 3 winners, and the prize is really something I've longed to have on this blog for quite some time: professionally made podcasts, courtesy of First Blog Media!
The first edition of a podcast is now up, and it's based on the 3 Rules To Help You Fight Procrastination article.
What is a podcast?
Podcasts are usually quite short (5-15min) audio recordings accessible from your website or through one of the many podcast catalogues. Podcasts are very similar to blogs in a way that they're like an information channel which you can subscribe to, thus constantly getting the latest editions for you to listen to. Many blogs have grown their popularity due to podcast service; at the same time, many podcasts became even more successful than the original idea or a website which started them off.
How do your listen to a podcast?
Websites usually have some kind of a widget – an on-page audio player with basic controls (play/pause, seek and volume) which allows you to start listening to a podcast. For my blog, you will find a widget like this in the sidebar: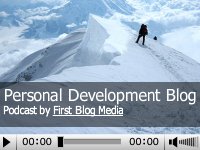 To get started, simply click the play button!
What can you expect from Personal Development blog podcasts?
There will be 2 monthly podcasts, initially going back and voicing some of my previous posts, but with a plan to start covering new articles.
Right now, it is planned to cover the posts from the website, which means podcasts will be yet another way for you to get the best of the information I have to offer. I think, however, that there's nothing wrong with posting unique podcasts in the future – something which has never been posted on my pages before.
Tune in to the first edition, and let me know what you think!