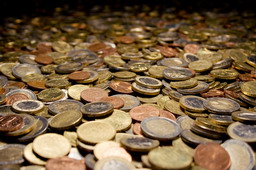 Sometimes your hobbies don't make much sense to others, but still prove to be immensely helpful and entertaining for you. Today I'd like to explain why it's the case with one of the more recent hobbies I've acquired.
My approach to treasure hunting
One beautiful morning a few months ago I was walking across my company's parking lot in the morning. It was an unusually sunny day, we don't get that many of them here in Ireland. I was happy and ready for the challenges of the day, almost anticipating a quick scan through corporate email and immediate start with daily technical chores. As I was walking, I stumbled upon a coin. A brand new, shiny 2c coin. I picked it up and realized that it immediately improved my day by a tiny bit. That's how it all started.
Since mid-summer 2008, I must have picked around a hundred coins – 2 coins a day on average. First, I've found the obvious treasure which was waiting for me on my way from the car to the office entrance. A few weeks later, I started changing my walking route slightly, by just a few steps a day. Yet another few weeks later, I developed a habit for always being on the lookout for more coins wherever I walk.
Benefits of my treasure hunting
Finding new coins is one of the best things I've ever done in my life: it's really fun! I don't do it for money, but every coin picked up makes me feel a bit better. I'm still to figure out what one can buy with all these coins, but for the moment it's just great to realize how my treasure fund slowly grows cent by cent. Long gone the days of easy finds on the parking lot – nowadays I discover new coins everywhere I go – on streets, in shops and at airports.
Some coins have quite a history attached – I found one coin at 2am in Frankfurt as I was walking along some empty street, for example. I've got few coins brought from Munster, a great little town in central Germany. I've found coins in Dublin city center and in pretty much every local shop I go to in my area.
My treasure hunting hobby is a great financial mindset trainer, too. It has reassured me of a few financial basics:
every little helps
you too can be a money magnet if you want
money is everywhere and sometimes all you have to do is to literally stop and pick up a coin
the more you find, the easier it gets
once you learn a skill, it can be applied everywhere
if you receive money easily, it's easier to give them away
Suddenly I see
You know the way people say you see what you focus on? Well, that's what happens to me with coins. I feel like there are lost coins everywhere! I never thought there are so many of them out there just waiting to be picked up – but now that I developed a habit of always looking for them, I find new one almost every day even if I don't get out much.
I suddenly see coins which have been around for weeks, months and sometimes even years – nobody noticed, that's all.
It's all about having fun
Like any hobby, finding coins is nothing but another way for me to have fun. I'm a cheerful person by nature, but some extra entertainment on a daily basis can never hurt. I have many other hobbies, some are cheap and some are expensive. Treasure hunting fits in very well – no setup hassle and plenty of immediate benefits.
See also: