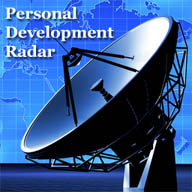 Hi again, and welcome to the next edition of the Personal Development Radar!
Personal Development Radar aims to bring you the latest news and suggest best online resources on personal development.
If you really like Personal Development Radar, please link back to this website! If you want to be featured, just the contact form to suggest your site.

NEWS
Personal Development blog gets a tumblelog version to accompany it: PersonalDevelopmentIdeas.com
I've had the .com domain name for quite some time, but couldn't find any use for it. Now, it finally became home to my personal development tumblelog – the place where I bookmark most interesting and useful articles I come across in my daily RSS reading.
The best of these articles make their way into the highlights at the end of each Radar edition, but if you're interested in more, please visit the Personal Development Ideas tumblelog!